Per cortesia non telefonate ne mandate e-mail per le richieste ma utilizzate esclusivamente il form di richiesta aiuto presente sulla pagina in alto a destra sul sito "AIUTO/HELP"  in questo modo le richieste di aiuto verranno evase dal gruppo di supporto in modo ordinato ed efficiente.
Please do not call or send e-mails for requests but only use the help request form on the top right-hand side of the "AIUTO/ HELP" page.
---
tramite il link presente nella pagina precedente collegatevi al portale
through the link showed in the previous page you can connect to the web site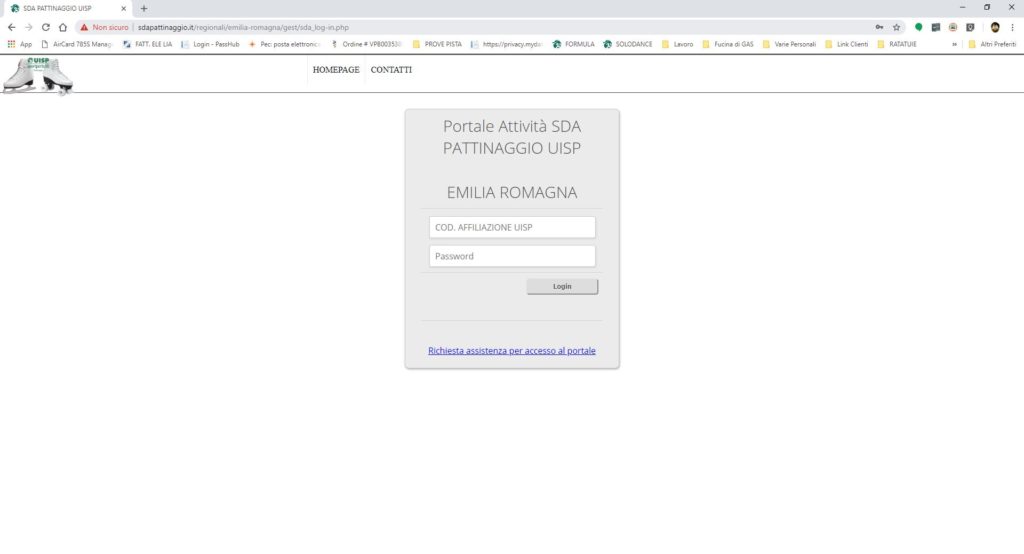 digitate il vostro utente ( codice di affiliazione UISP ) e la password ricevuta, se non l'avete richiedetela tramite il FORM

enter your user and the password received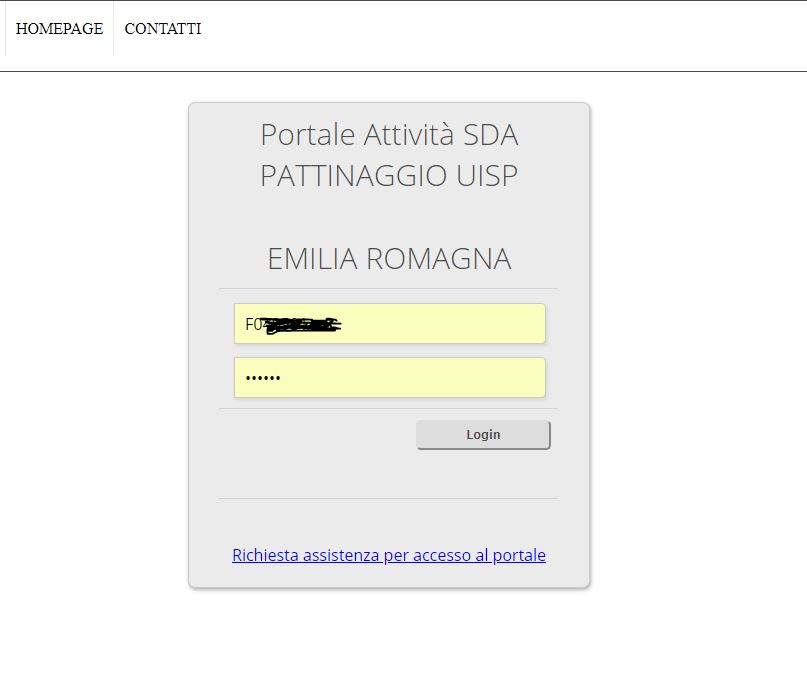 COMPLETATE TUTTI I DATI ANAGRAFICI RICHIESTI E CLICCATE SU SALVA ALLA FINE

COMPLETE WITH ALL YOUR PERSONAL DATA REQUIRED AND CLICK ON SAVE BUTTON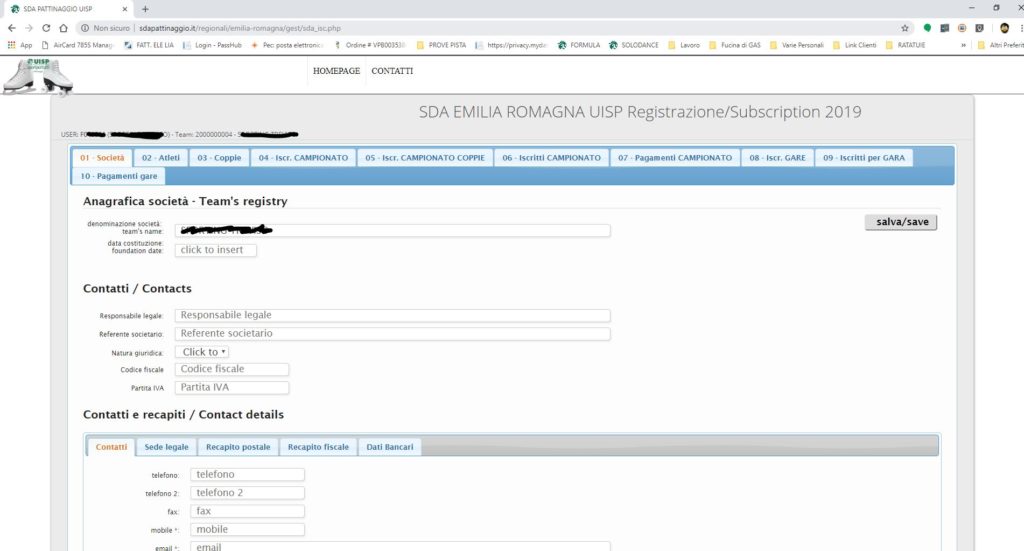 nella finestra atleti troverete tutti gli atleti iscritti al 15/01/2018

skip this, not valid for international clubs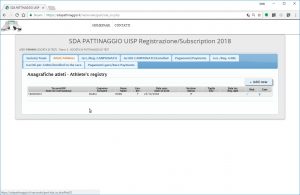 click su ADD NEW per caricare nuovi atleti o che eventualmente mancassero dalla vostra lista. Per cortesia inserire tutti i dati in MAIUSCOLO
click on ADD NEW for new athletes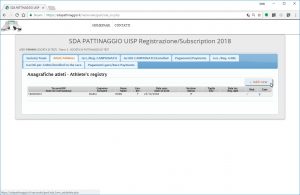 compilare tutti i campi incluso il numero tessera UISP dell'atleta
fill in all the fields, for field "N Tessera UISP" input 0 (zero), we will change it after your registration
COPPIE: la Società dell'atleta Maschio carica la coppia dal menù COPPIE


dal menu  "Iscrizioni CAMPIONATO – CAMPIONATO subscriptions" selezionate il campionato e iscrivete tutti gli atleti che volete far partecipare
from the menu "CHAMPIONSHIP Subscriptions – CHAMPIONSHIP subscriptions" select the championship and register all the athletes that you want to participate

il menù 04 – Iscr. Campionato è per i SINGOLI mentre 05 – CAMPIONATO COPPIE è per le coppie.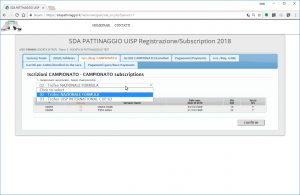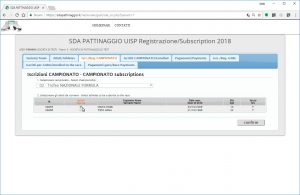 confermate con il tasto CONFIRM e verrete indirizzati ad un'altra schermata dove confermerete con il tasto OK
confirm with the CONFIRM key and you will be redirected to another screen where you will confirm again with the OK key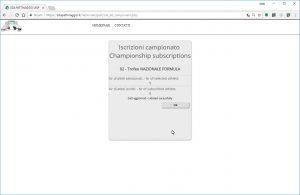 confermate nuovamente nella pagina "Atleti iscritti CAMPIONATO – Enrolled athletes"
confirm again on the page "Registered Athletes CAMPIONATO – Enrolled athletes"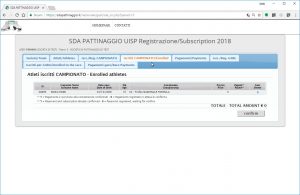 confermate nuovamente nella pagina "Pagamento CAMPIONATO – CHAMPIONSHIP Payement"
confirm again on the "CHAMPIONSHIP Payement" payment, (no payment is required for this step)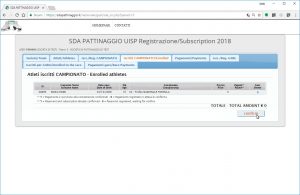 e un'ultima volta sulla schermata successiva
and one last time on the next screen please click on 'OK' key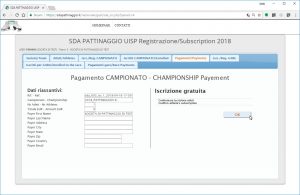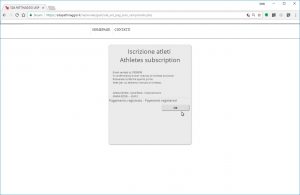 procedere adesso all'iscrizione della GARA dal menù "Iscrizioni gare – Race subscriptions"
selezionare il campionato, gara e categoria
proceed now to the registration of the RACE from the "Iscrizioni gare – Race subscriptions" menu, select the championship, race and category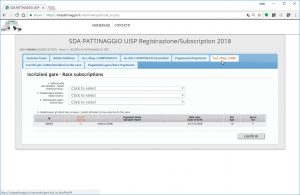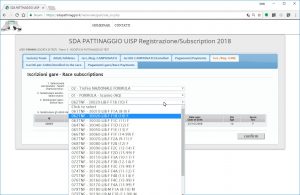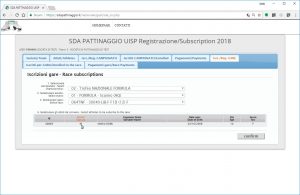 nell'esempio abbiamo volutamente sbagliato la categoria come età dell'atleta, compare un messaggio di errore
in this example we have deliberately made a mistake as regards the category, the age of the athlete, as a matter of fact, an error message appears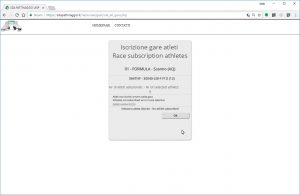 ripetiamo l'operazione con i dati corretti
we repeat the operation with the correct data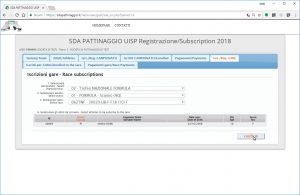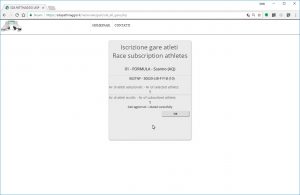 ripetere l'operazione per tutti gli atleti, una volta conclusa questa fase confermare con il tasto CONFIRM per passare al pagamento
repeat the operation for all the athletes, when this phase has been completed, confirm with the CONFIRM key to proceed with the payment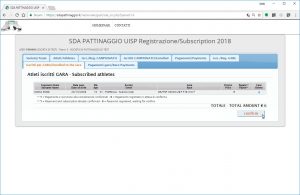 verrete rimandati alla pagina del pagamento dove è presente l'IBAN a cui indirizzare il pagamento, salvate la contabile in formato PDF o JPG e caricatela tramite il tasto "SCEGLI FILE"
you will be redirect to the payment page,  where there is the IBAN in order to make the payment, save the receipt for the wire transfer, PDF or JPG format and upload it using the "SCEGLI FILE" button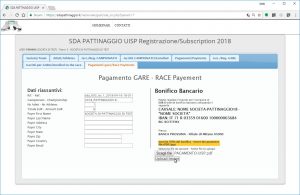 confermate con il tasto "UPLOAD IMAGE" e se tutto si è concluso correttamente vi comparirà una pagina simile a questa
confirm with the "UPLOAD IMAGE" key and if everything has been completed correctly, a page similar to this will appear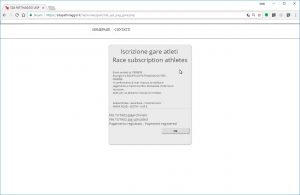 vi arriverà subito una e-mail con la conferma della ricezione dei dati, poi nelle 48 ore lavorative seguenti la segreteria controllerà i dati e se tutto è OK riceverete una e-mail con la conferma di iscrizione.
you will immediately receive an e-mail of acknowledgement of receipt, then in the following 48h, working days, our office will check the data and if everything is OK you will receive another e-mail with the confirmation of the registration.